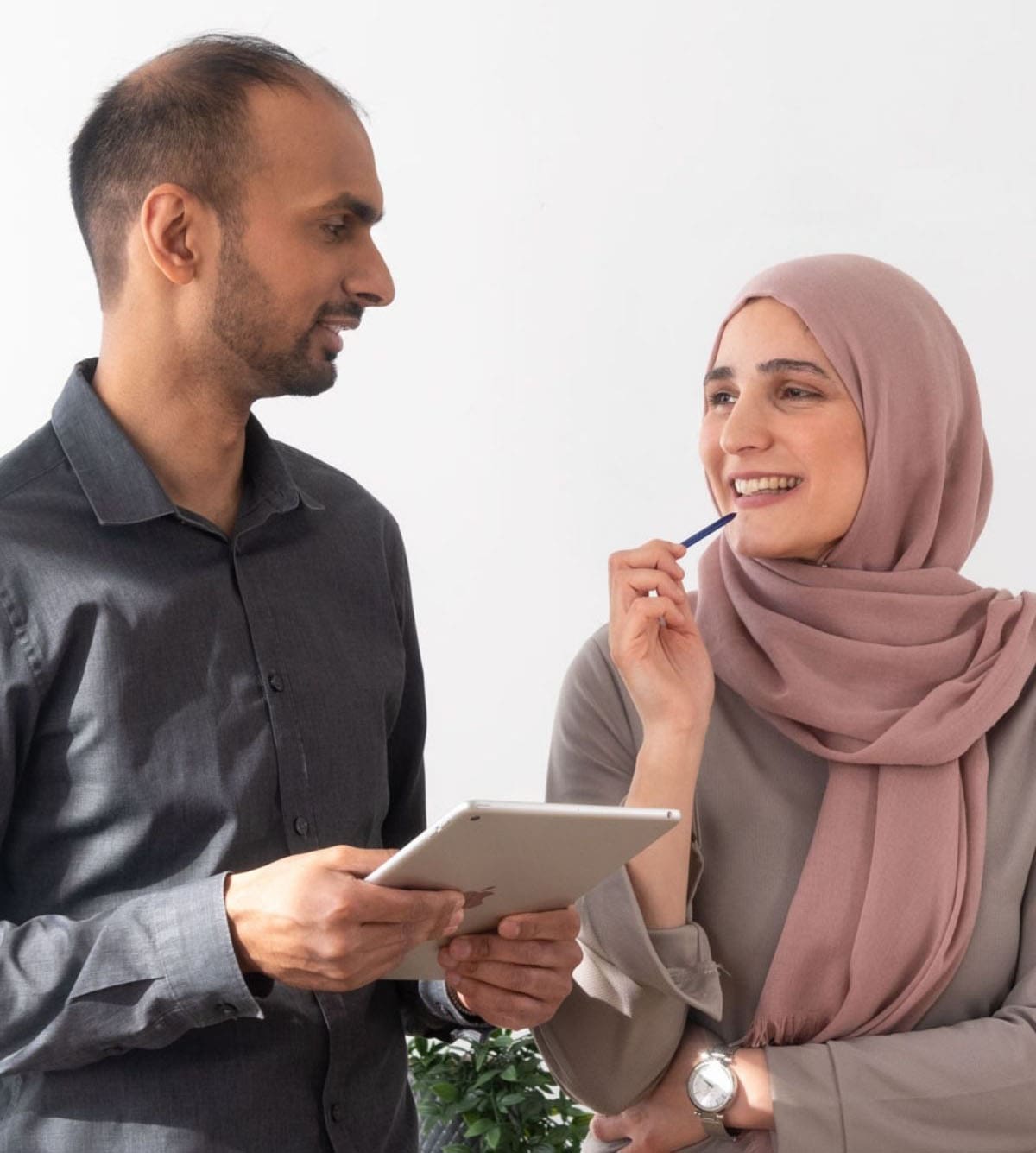 Who are we
Salaam. We're Hiba and Zaid, the creators of Halal Match. Neither of us thought we would be professional matchmakers one day, but here we are. We found each other on opposite ends of the world.
Alhumdulilah, we were fortunate to have pursued diverse fields in our undergraduate and graduate studies that would help us serve you, insha'Allah. With backgrounds in Shariah and Psychology, we hope to find you a match in the most professional and Halal manner.
zaid's story
I approached marriage with the belief that I would marry someone born and raised here in the West. That only someone here would share my values and perspectives on life. I was taking an unconventional path in school and wanted someone who would be supportive and understanding.
I spoke with friends and aunties, made a biodata (marriage resume), and attended Muslim matrimonial events: the ones at conventions that would turn out to be speed dating events. I even tried some Facebook and Whatsapp groups.
I exhausted every option I could think of.
I was on a marriage website at the time. After searching tirelessly for so long, I told myself if I don't find someone soon that's it. I'm done! And that's when I suddenly got a message from Hiba in Jordan.
I was very skeptical at first, but pushed myself to give it a chance. So I responded and soon we were bonding over everything: music, art, religion, and more. It was strange that I was connecting so well with someone so far away. Yet, I had so many questions: How would she adjust to a different life here? Would her parents accept someone from a different culture? I had many insecurities and doubts. But with each conversation I could see Allah was making the process easier for me. She introduced me to her parents who were very welcoming and loving. We met in Chicago, had our Nikkah with family and friends, and the rest was history.
Hiba's story
Salaam. I'm Hiba. I was born and raised in Palestine. I spent much of my adult life in school. I didn't know where to meet mature Muslim guys. Yet, through some family friends I got engaged. It didn't take long for me to discover he wasn't right for me. I broke it off, packed my stuff, and moved to Jordan.
Two degrees later, I realized that five years have passed and that I'm hitting thirty. The idea of finding a companion started to really nag me. But where to look? Up to that point I hadn't even heard about matchmaking websites. I only came across it while browsing through the web. I joined one and soon after, I met Zaid. He had the qualities I was looking for in a husband. We shared our love for religion, sweets, art, and so much more. With each conversation, I could see Allah was opening a door for me.
I was lucky to find not just a spouse, but a companion for life.
the struggle is real
We were very fortunate to find each other. But for many Muslims, it's not easy. We understand the culture, the expectations, and the general hardship for Muslims in the West trying to get married.
Our careful selection process brings together only serious and mature Muslims. This means no more blind dates. No more people hiding their profile pictures. No more friends or relatives making profiles on behalf of their loved ones.
You apply. We screen. You meet. And we support you until you meet your match. Get started on your journey to finding your ideal match today by clicking the button below.